Welcome to my "Grief Healing Oasis" tab.  This area of my website is where I share a few of the creative ways I've processed grief throughout my life.  My goal is to share parts of myself, hopefully encouraging you to use your own creative gifts to help YOU process your own losses and grief.  
Here is some of my art!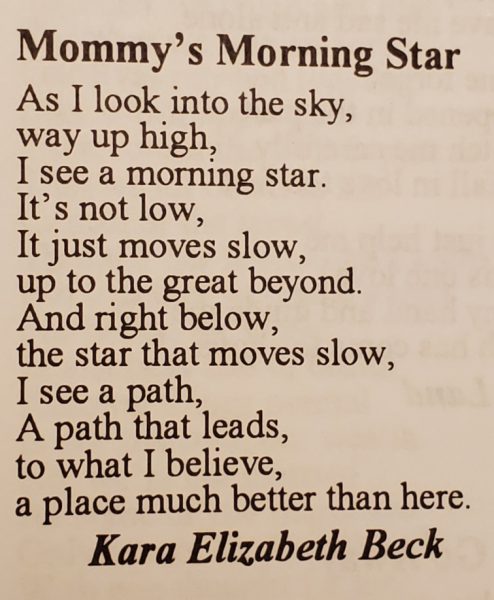 It is not a well know fact that I've been a published poet since age 13.  The morning after my mother's passing, I wrote this poem.  It was my first creative expression that helped express my intense grief.  This poem is published in "Etches In Time" The National Library of Poetry as a compilation, 1997 edition.  I wrote it July 28, 1996.
Photography has been a hobby of mine throughout the years.  I enjoy taking pictures of landscapes, nature, the sky and horizon.  I love capturing the beauty of nature and it helps me feel connected to those who I've lost in my life, while remaining grounded on the Earth.
Music is perhaps my favorite healer.  I have playlists for just about every event, holiday, season, and emotion.  I created a "Grief" playlist.  This list is very personal to me.  Many of the songs are from the mid to late 90s, as this was when I experienced a great amount of grief in my mother's passing.  I didn't realize at the time, but this music was my therapist in many ways.  Every song brings a comfort to me in one way or the other, it expresses part of my soul.  When I put all these songs together on this list, it was wave after wave of grief.  It is an intense list of songs that invoke a powerful response within myself.  This is how grief works.  It can come in waves of intensity.  No matter how much healing work you have done, there will always be waves of intensity.  I feel the need to share this disclaimer.  Here is the link, I'd like to share part of my soul with you through music, if you'd wish to listen.
– Elizabeth Kubler-Ross, when asked to summarize what to do for the dying and grieving.
On to the videos… they explain themselves.
If you are interested in participating in a virtual "Healing Grief Through Creative Expression" support group, please email me at kara@alwaysBEhealing.com for more information.