BOUNCING BACK -HEALING AND GROWING WITH GRIEF PROGRAM
You have experienced profound loss in your life (death of loved one(s), loss of pet(s), loss of home, experience of catastrophic event or natural disaster, illness or other health disruption, ending of a relationship, job loss, anticipated loss, compounded/multiple losses, etc.)
You feel STUCK, unable to move forward
You are ready move forward, but you're not sure how
You know grief is a healthy response, yet you don't feel healthy
The emotional weight of loss you've experienced is HEAVY and COMPLEX
You have a connection to spirituality/energetic forces, but unsure of how to use this connection when processing your grief
HOW YOU WILL BENEFIT FROM THIS PROGRAM
Validation of your personal and unique grief experience, you will feel seen and heard
Deeper level understanding of how grief shows itself in your life spiritually/energetically, emotionally, mentally, and physically  
Grounding and Spiritual Grief Support tools to encourage stability and strength to process all the waves that come with grief
Growth around your grief that honors the value and irreplaceable nature of what you lost
Bouncing back into a fulfilling life that honors the significance of your loss(es)
ABOUT ME
Personal Grief Experience (I lost my mom at a young age when I needed her most)
Certified Grief Support Specialist through UW Madison
Level III Reiki Master
20+ years of experience in service, social work, healthcare, and wellness industries
Highly Sensitive Person, you will be heard and guided by someone with compassion and intuitive abilities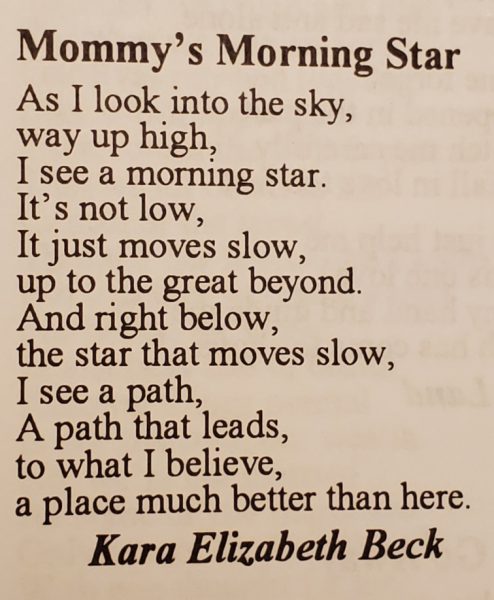 It is not a well know fact that I've been a published poet since age 13.  The morning after my mother's passing, I wrote this poem.  It was my first creative expression that helped express my intense grief.  This poem is published in "Etches In Time" The National Library of Poetry as a compilation, 1997 edition.  I wrote it July 28, 1996.
Photography has been a hobby of mine throughout the years.  I enjoy taking pictures of landscapes, nature, the sky and horizon.  I love capturing the beauty of nature and it helps me feel connected to those who I've lost in my life, while remaining grounded on the Earth.
Music is perhaps my favorite healer.  I have playlists for just about every event, holiday, season, and emotion.  I created a "Grief" playlist.  This list is very personal to me.  Many of the songs are from the mid to late 90s, as this was when I experienced a great amount of grief in my mother's passing.  I didn't realize at the time, but this music was my therapist in many ways.  Every song brings a comfort to me in one way or the other, it expresses part of my soul.  When I put all these songs together on this list, it was wave after wave of grief.  It is an intense list of songs that invoke a powerful response within myself.  This is how grief works.  It can come in waves of intensity.  No matter how much healing work you have done, there will always be waves of intensity.  I feel the need to share this disclaimer.  Here is the link, I'd like to share part of my soul with you through music, if you'd wish to listen.
– Elizabeth Kubler-Ross, when asked to summarize what to do for the dying and grieving.
On to the videos… they explain themselves.
ABOUT ME
Personal Grief Experience (I lost my mom at a young age when I needed her most)
Certified Grief Support Specialist through UW Madison
Level III Reiki Master
20+ years of experience in service, social work, healthcare, and wellness industries
Highly Sensitive Person, you will be heard and guided by someone with compassion and intuitive abilities